Welcome Lady Shoppers
Regardless of gender, any person with balls should feel at home here!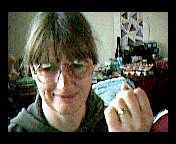 Brave woman visitor of BoneStamp®: Please note that the absence of third personal pronouns which refer to your gender is because we don't expect very many women to visit. If you often find yourself feeling enraged and primitive, you may want to do with those feelings just what a man would do. We not only applaud your reckless attitude toward your reputation but admire your willingness to expose yourself to the possibility of a good fist fight. You obviously have what it takes and we rush to assure you found the right place to accessorize your every inappropriate, but deliciously primitive, angry impulse. Incidentally, the stamp of a professional woman's well manicured hand flipping the bone already appears as a choice of hand gestures in Virtual BoneStamp (Version 1.4.1) is in pre-production for a rubber stamp which should be available soon.
Home Page
---